Fitness Center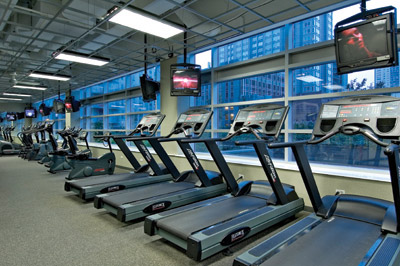 Working out is a necessity - working out at Grand Plaza Fitness Center is a delight. Locker rooms for men and women with separate steam and sauna rooms are conveniently located across from vending machines dispensing that last minute snack before your workout.

Just across the corridor, you'll find an array of fitness equipment worthy of a private club which could cost you hundreds of dollars a month extra! Take a look at what's in store for you.

Life Fitness™ Equipment
• Arm Curl
• Triceps Extension
• Leg Extension
• Seated Leg Curl
• Seated Leg Press
• Treadmill with Heartrate
• Cross Trainer with Heartrate
• Lifecycle Recumbent Exercise Bike with Heartrate
• Lifecycle Upright Exercise Bike with Heartrate
• Stairmaster Free Climber
• Chest Press
• Shoulder Press
• Lat Pulldown
• Hip Abductor/Adductor
• Abdominal
• Smith Machine
• Hammer Olympic Power Rack
• Hammer ISO Lateral Chest


Plus, complete free weights, strength training systems and television monitors.
Important Information
Location: 9th Floor